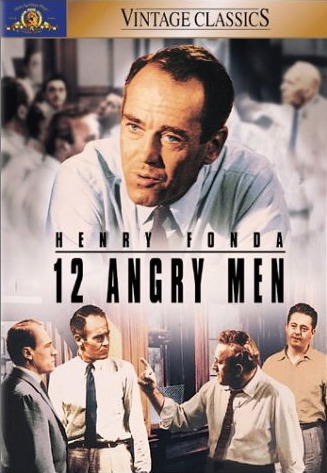 Film: Twelve Angry Men
Heralded as one of the all-time great theatrical releases, both as a play and a film, "12 Angry Men" focuses on a jury's deliberations in a murder case. A 12-man jury is sent to discuss and reach the final decision in the first-degree murder trial of an 18-year-old Latino accused in the stabbing death of his father. A guilty verdict means an automatic death sentence. The case appears to be open-and-shut: The defendant has a weak alibi; a knife he claimed to have lost is found at the murder scene; and several witnesses either heard screaming, saw either the killing or the boy fleeing the scene. Eleven of the jurors immediately vote 'guilty'; only one Juror casts a 'not guilty' vote. What begins as a clear-cut case of murder soon becomes a mini-drama of each of the jurors' prejudices and preconceptions about the trial, the accused, and each other.
A triumph of Director Sydney Lumet's brilliance, almost all of the action in this black & white 1957 masterpiece takes place in one room and holds the audience spellbound, not because of the murder mystery but the stunning showcasing of human emotions. While the two major roles, executed superbly by Henry Fonda and Lee J. Cobb, will live with you forever, every single character is played as flawlessly as you could ever have imagined.
The film raises several issues, from pre-conceived notions to apathy and from anger management (several corporations around the world continue to use it for personnel training) to rigidity of views.
Facilitator: Zaheer Kidvai
PLEASE NOTE THAT THE NOV 4 SESSION HAS BEEN FULLY BOOKED BY A SCHOOL AND IS BEING HELD AT ITS OWN PREMISES. THE SHOWING OF 'TWELVE ANGRY MEN' AT THE TRC WILL NOW BE HELD ON THE DATE BELOW.
Date: Saturday, November 25, 2006
Time: 10:30 am
Venue: TRC, 67-B, Garden Road, Karachi-75500
Duration: Film and Discussion: 2.5 hours
Fee: Rs. 150 only